A Guide to Donate Blood During the Pandemic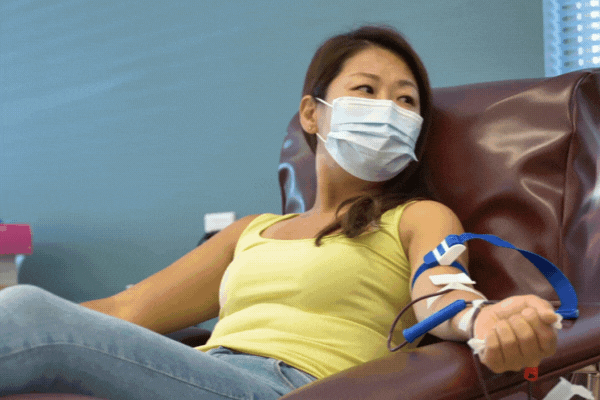 Did you know when you donate blood you can save up to 3 lives? The ongoing pandemic has impacted our community in so many ways. From economical hits and financial crisis to mental health struggles and exhausted frontliners. One of the many urgent areas of care that was impacted is the depleting levels of blood supply in our national blood bank.
The Malaysian health director-general, Dr Noor Hisham Abdullah recently noted that the increase in Covid-19 cases has led to a sharp drop in blood collection nationwide. In addition to that, the usual blood donation campaigns to create awareness were temporarily suspended throughout the lockdown period.
Having said this, it's been mentioned that the low stock of blood in hospitals and the national blood bank will become a crisis. As Dr Noor Hisham urged the public to do their part to donate blood, he noted that "the average amount of blood needed per week for patient use nationwide was 14,000 bags of blood; of which 3,500 to 4,000 bags of blood per week were needed to supply to hospitals in the Klang Valley."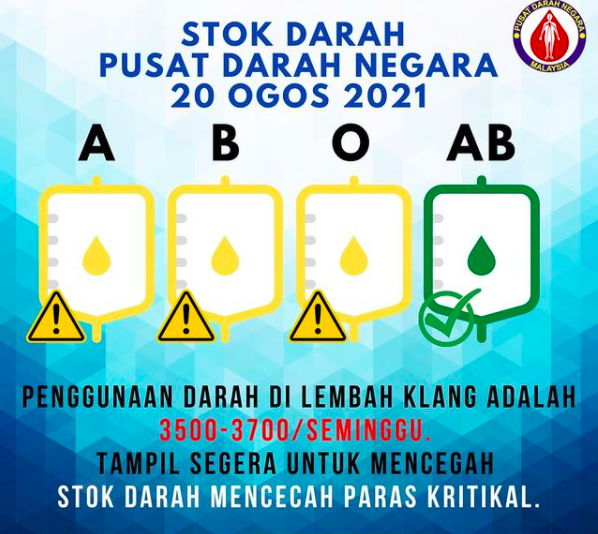 How to Donate Blood During the Pandemic?
Ensure you're healthy with no symptoms of Covid-19 and have had no recent contact with a positive case. 
Find the nearest blood donation center. Use the Pusat Darah Negara (PDN) website here or identify the nearest hospital to you
Call ahead to make an appointment
Ensure you meet all the criterias to donate blood as listed below
Be SOP compliant. Wear a mask and bring your hand sanitizer 
Show up on time for your appointment 
Be proud of yourself for your kind donation! 
ProTip
Upon registration, you will be required to fill out a form. To reduce the risk of sharing stationary, bring your own pen or print your own form from the website available here.
Is it Safe to Donate Blood with Covid-19 Cases?
All blood donation locations are SOP compliant and require your cooperation to ensure the safety of donors, nurses and staff. Just like a trip to the grocery store, wear your mask, keep your distance and sanitize frequently. Rest assured, all officials and staff at work have to be certified fit for work as noted by government protocols.
Additionally, all medical equipment, beds and surfaces are sanitized for your safety and donors are managed to ensure sufficient distance between one another. If you're uncomfortable, call ahead to find out if there's a crowd.
ProTip
Speaking from personal experience, donate blood on a weekday and you're likely to find it empty! I visited PDN's Donation Suite in Mid Valley Megamall and was pleasantly surprised at how quick, efficient and SOP compliant the branch was!
Blood Donation Eligibility
To ensure you're fit to donate blood, here's a quick checklist of criteria to meet: 
Between 18 – 60 years old
At least 45kg in weight
Healthy with no existing health conditions
Well rested with at least 5 hours of sleep
Sufficiently hydrated and have had a meal
At least 3 months since your last blood donation
Not pregnant or breastfeeding
Not involved in high risk activities such as:

Consumption of drugs
Multiple sexual partners
A sexual partner to any of the above

If vaccinated, a waiting period of at least 7 days
For further details or information on donor criteria, visit the website here.
What Do I Need to Bring?
Just to summarize your essentials, you will need:
A face mask
Hand sanitizer
A pen to fill in your forms
Access to your MySejahtera app (don't forget to charge your phone!)
Your IC or Passport
If you're feeling like a champion today, make the conscious decision to help your community and save up to 3 lives! If you're unable to donate blood, do your part and share this article with friends and family who can.
Source: News article from FMT | Pusat Darah Negara
---
The information contained in this blog is provided for informational purposes only and should not be construed as advice on any matter. Etiqa accepts no responsibility for loss which may arise from reliance on information contained in this article.