Diabetes, Glycemic Index (GI) and Snacking in Malaysia
Written by Homage Malaysia
1 in 5 adults in Malaysia has diabetes. If you are a person living with diabetes, understanding how your body processes sugar throughout the day can help you stay in control of your blood sugar levels. At the same time, choosing food with the right glycemic index (GI) can also help you to keep your blood sugar in check. The glycemic index or GI refers to the measurement of how slowly or quickly a certain food affects your blood sugar level. It is measured on a scale of 0 to 100 – with a higher score signifying a more rapid increase in blood sugar level. The numbers can be simplified as below:
Low GI (55 or below)
Moderate GI (56 to 69)
High GI (70 and above)
As Malaysians, we may be more likely to go against the common saying of "avoid snacking between meals". Between visiting our favourite local kuih-muih stalls and ordering from online food delivery services, staying away from snacks and sticking to low GI food can seem impossible, especially if you have recently been diagnosed with type 2 diabetes.
For people living with diabetes, snacking is an important part of the day. Not only does snacking help to keep your blood sugar level stable but it also helps you to avoid hunger pangs that can result in overeating and spiking blood sugar. On average, people living with diabetes are recommended to aim for snacks between 100 to 200 calories to maintain sugar levels and keep you full until the next meal.
In this article, we cover the best Malaysian snacks for people living with diabetes in hopes of providing better and healthier options for you to manage your condition.
Plain Almonds
Plain almonds have been shown to help stabilise blood sugar levels as they are rich in protein, fibre and healthy fats. According to another study, almonds are also great for people living with diabetes as they can help to reduce your risk of cardiovascular diseases. for your heart and can help to reduce cholesterol levels. Not to mention, almonds are easy to carry around throughout the day and makes an ideal snack for at home or on the go.
While almonds come with excellent nutrients, it is worth noting that almonds are high in calories. Keep your portion to a handful at a time which counts to about 150~ calories per serving.
Chapati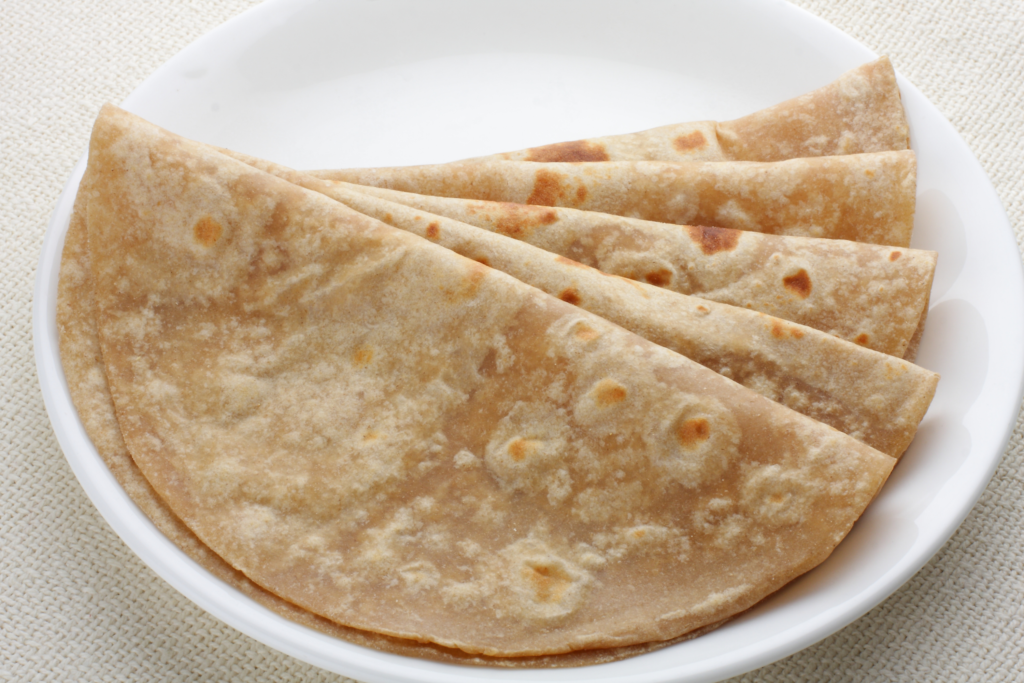 Chapati is a great snack option that is both filling and delicious if you are eating out at a Mamak restaurant. One of the most ordered food at Mamak restaurants is roti canai. Roti canai is an all-time Malaysian favourite flatbread dish cooked with plenty of ghee and topped with a generous amount of curry. It is not surprising that the combination of flour, clarified butter and gravy makes it a poor choice for people with diabetes.
In comparison, chapati is a clear winner as a healthier option for diabetics eating at a Mamak restaurant. Other than being low in carbohydrates, chapatis are also an excellent source of protein and can be enjoyed in moderation when options are limited.
Plain rice porridge with chicken and vegetables
Porridge is a dish enjoyed by all cultures here in Malaysia which makes it easy to find at most restaurants and easy to make at home. Although it may often be associated as a meal option for sick individuals or as a meal for infants, porridge or bubur can also be a healthier snack option for diabetics.
Eating a cup of porridge can provide you with a moderate amount of carbohydrates to keep you full until your next meal and is also a good source of fibre for the day. As a reminder, always be mindful of the condiments you can add to your rice porridge as this can increase your salt, carbohydrate and overall calories intake.
Popiah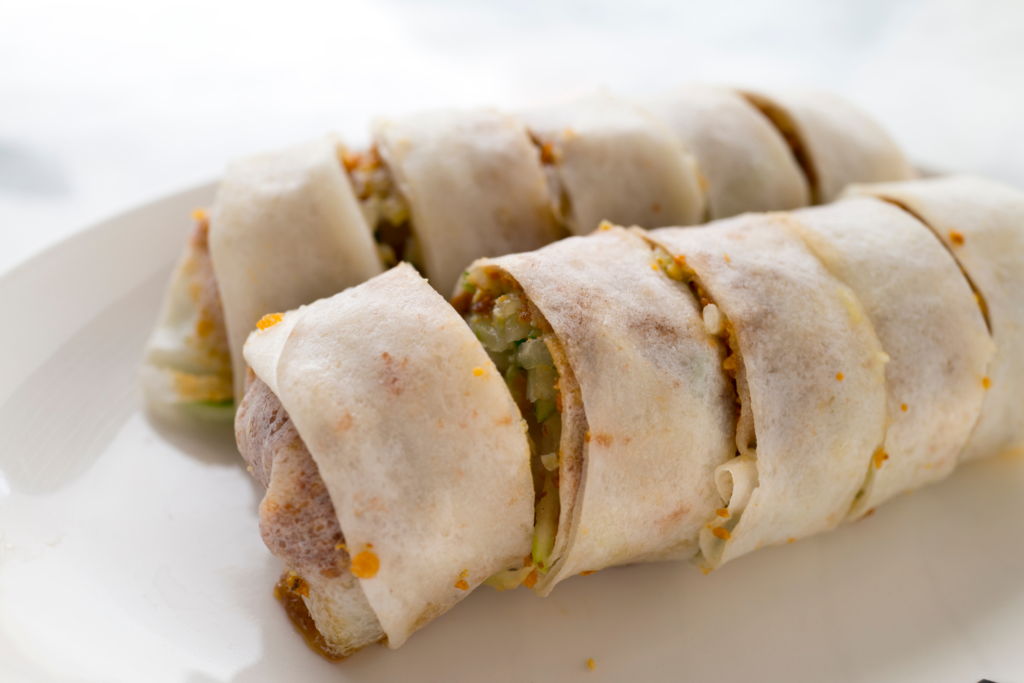 Low in carbohydrates and high in protein and fibre, popiah or the Malaysian spring roll is an ideal snack for those living with diabetes. Packed with a lot of vegetables such as carrots, turnips and beansprouts, this snack is best enjoyed fresh to avoid the extra fat that comes with its fried counterpart. With a calorie range of about 100 – 200 per piece, you can keep popiah in mind for your next afternoon snack.
Hard-boiled eggs
Hard-boiled eggs are an easy and highly nutritious snack. Known for its excellent protein content, just one hard-boiled egg can provide you with 6 grams of protein which can help to avoid your blood sugar from spiking after meals. Moreover, eggs are also known to keep you full for longer and are a great way to help with weight management as a person living with this condition.
Malaysian vegetable soup (sup sayur)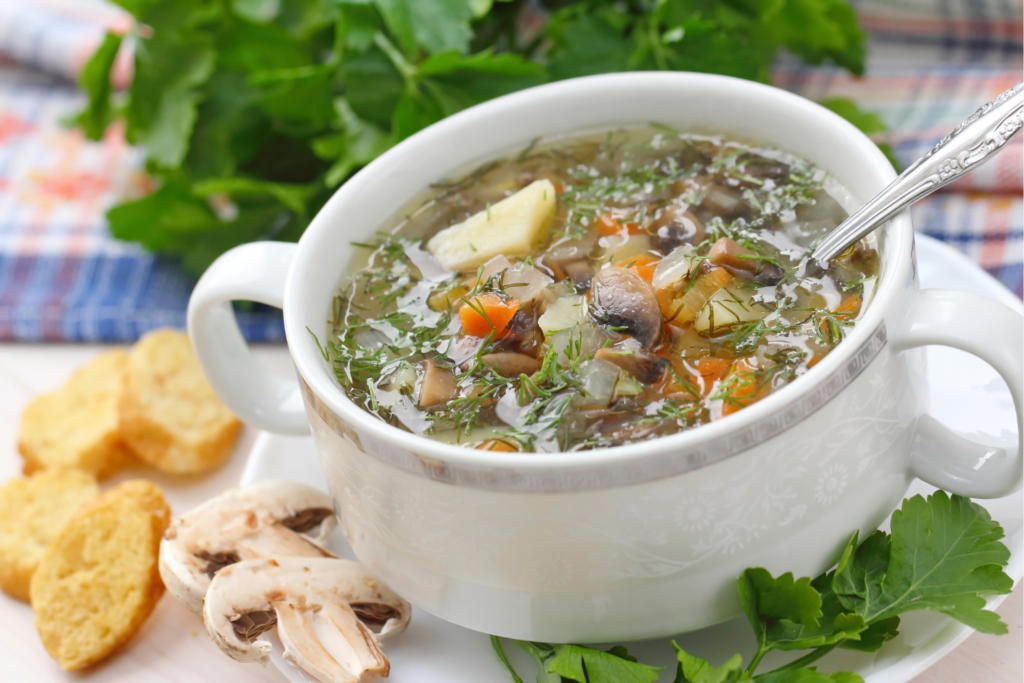 It may not be surprising that soup is included as an option for diabetic Malaysian snacks but there are a few limitations. Soups can be very filling and nutrient-dense – packed with vegetables and protein but they can also be an unhealthy option if they are high in sodium or fat. Always opt for clear broths and freshly made soup as this can avoid high fat and calorie content that can be unhealthy for a diabetic diet.
A homemade vegetable soup can be prepared quickly and enjoyed either as a day or nighttime snack. Here is how you can make your own at home:
You will need:
6 cloves of crushed garlic
2 crushed chillies
2 stalks of lightly crushed lemongrass
100 grams of chicken breast
7 pieces of oyster mushrooms
1 tablespoon cooking oil
5 stalks of mustard greens
Himalayan Salt
Method:
Heat the soup pot with the oil.
Add lemongrass, chilli, and garlic. Sauté until golden.
Add chicken and stir until slightly cooked.
Add water and allow to boil.
Add mushrooms, mustard greens, and salt to taste.
Tandoori Chicken
Apart from roti canai, tandoori chicken and naan are also some of the top dishes ordered at Malaysian Mamak stalls. While naan can be high in saturated fat when ordered as butter naan or cheese naan, a small portion of tandoori chicken can be a hearty snack in between meals. Providing you with a good amount of protein and fat, this is another dish you can choose when out with friends and family to avoid high amounts of carbohydrates and calories.
In this case, moderation is key as a large portion of tandoori chicken can overload you with saturated fat and high levels of sodium from the marination process. Always remember to enjoy your meals slowly and savour your snacks.
Snacking tips for those living with diabetes
Other than eating the right food, smart snacking or sensible snacking can also help you to be in control of your blood sugar levels. Here are a few tips on how you can be a sensible 'snacker':
Avoid purchasing unhealthy snacks. If unhealthy options are not available at home, you are not able to eat them.
Choose food that promotes fullness. This can even be food that is highly filling but low in calories such as eggs and reduced-fat cheeses.
Prepare your snacks ahead of time. Cut up your favourite vegetables and keep them in the fridge or always stock your favourite low-sugar fruits in the house to prevent you from making unhealthy snacking choices.
Enjoy your food with the right portion. Try eating your snacks with a smaller plate or bowl to stay within your daily intake.
Avoid snacking in front of a TV or other form of distractions as this can cause you to eat more than intended.
Taking care of your diabetes
Roughly 3.9 million Malaysian adults live with diabetes. We have walked the journey with numerous families and their loved ones with trusted in-home diabetes care. From physical exercises to vital signs monitoring to post-surgery care, you can count on Homage Care Professionals to take good care of your loved one with diabetes. Want to learn how we can help with diabetes care and management? Speak to our Care Advisor today at 016 299 2188 or visit email us at malaysia@homage.co.

Homage is a personal healthcare solution that connects caregivers, nurses and therapists with seniors that need on-demand holistic home care in their own homes, allowing them to recover and age with grace, control and dignity. You can find Homage Malaysia on Facebook at @homagecaremy and Instagram at @homagecare_my
This article has been reviewed by Dr Chua Zi Wei, a registered and practising medical doctor and qualified Official Medical Reviewer from Homage.