7 Best Extreme Sports In Malaysia To Add To Your Bucket List
Calling all adventure enthusiasts, if you haven't tried extreme sports in Malaysia yet, you're missing out!
Malaysia is known for its richness in nature. Sandy beaches, rushing rivers, lush forests and huge mineral rocks; all of which offers a range of extreme outdoor activities.
In this article, we aim to help introduce some best extreme sports in Malaysia, Dos and Don'ts for each sport and of course, where to find them.
Where Can I Do Extreme Sports in Malaysia?
Some of the best places for extreme sports in Malaysia would be Kuala Lumpur, Penang, Langkawi, Perhentian Island and Redang Island.
You'll notice that Malaysia has many islands that are great for extreme water sports while Kuala Lumpur, a tourist hub, has many different types of extreme sports including extreme indoor parks.
7 Best Extreme Sports in Malaysia
Here are 7 best extreme sports to try, some DOs and DON'Ts and where to find these activities in Malaysia
1. Water Rafting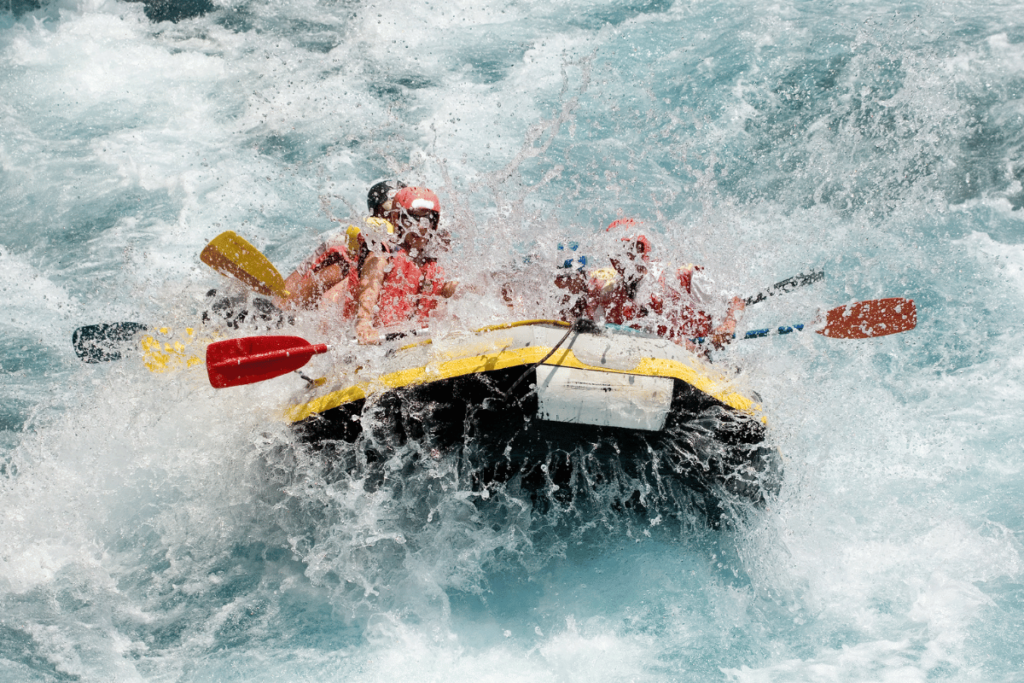 If you love water sports, you might be no stranger to water rafting! Water rafting is a recreational water sport where an inflatable raft carries 4 to 8 people down white water rapids on a river.
If you're not afraid to get drenched and appreciate the adrenaline rush that comes with gushing water, this is an extreme sport in Malaysia to check off your must-do list.
DOs:
Know how to swim.
Wear a life jacket and helmet.
Ensure you have an insurance plan for extreme sports.
DON'Ts:
Get on/off the raft without instructions.
Participate if you can't swim or don't have company that can swim.
Bring valuables on your raft
Where can I go Water Rafting in Malaysia?
2. Bungee Jumping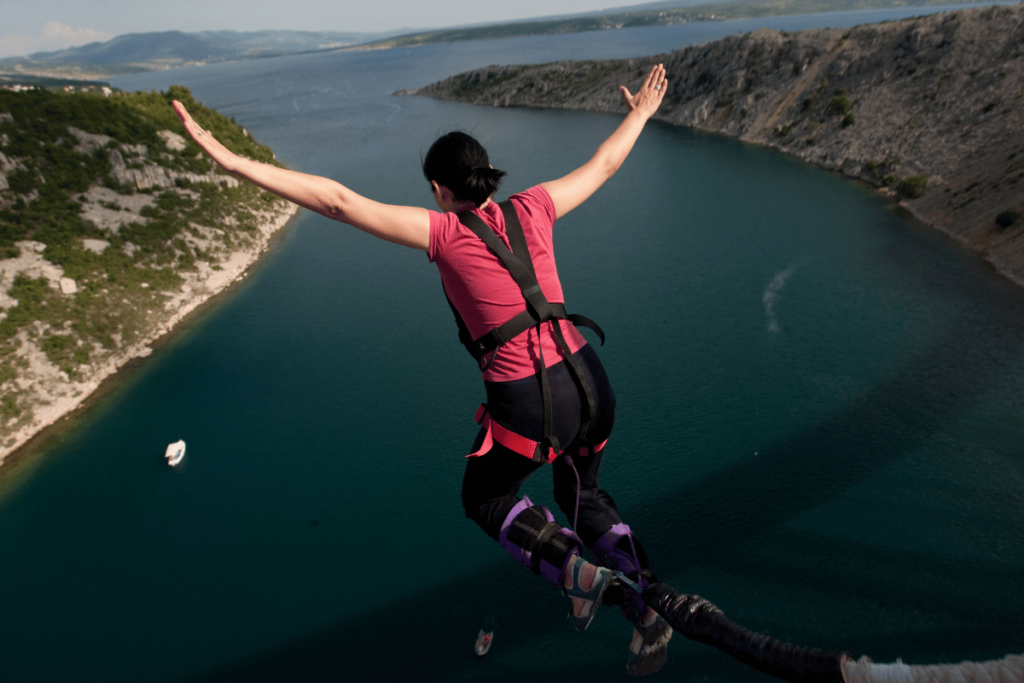 Bungee Jumping is an extreme sport for the brave. If you're afraid of heights, you might have to skip this one! This action-filled extreme sport involves t jumping head-first from a tall structure with an elastic cord attached to your ankles.
That tall structure can be anything; a building, crane, bridge or even a helicopter (as often seen in movies!). However, you must ensure that you choose a location that is licensed, safe and secure.
DOs:
Wear something light and comfortable
Wear sports shoes
Have an insurance plan for sports
DON'Ts:
Wear skirts, dresses and heels
Eat a couple of hours before
Distract those who are about to jump
Where can I go Bungee Jumping in Malaysia?
3. Flyboarding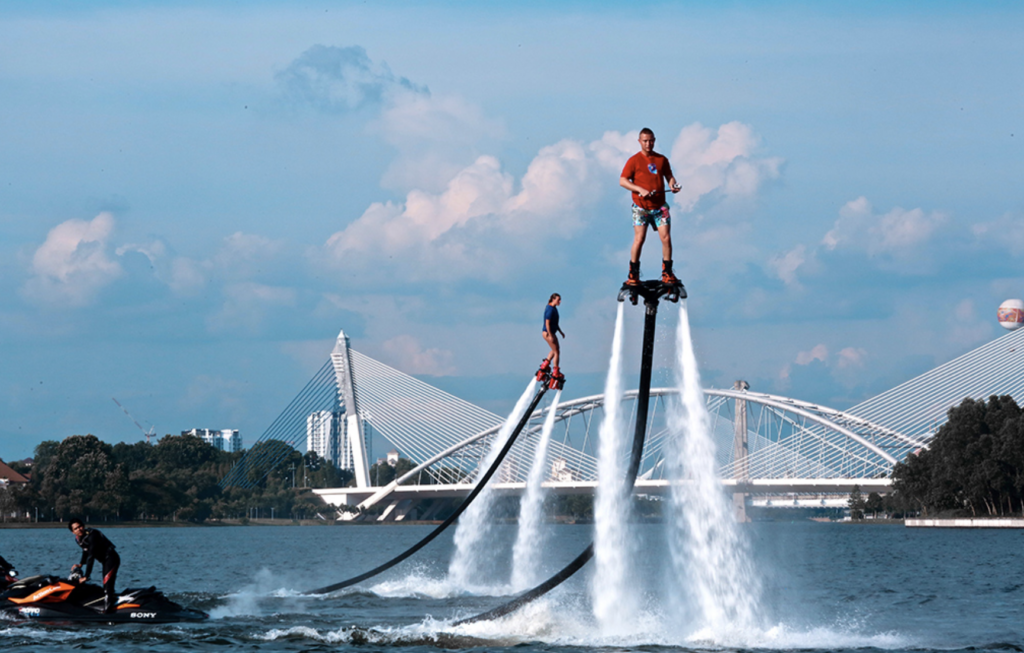 Soar through the skies with flyboarding, a common extreme sport in Malaysia. If you've not tried this one out before, don't worry! It takes most people 5-20 minutes to learn the sport once they're on the board. But if you need more time, that's perfectly fine too!
Is flyboarding expensive in Malaysia? This unique sporting experience is inexpensive, ranging from RM70-RM140. What it is though, is exciting, adrenaline-driven and 100% fun.
DOs:
Know how to swim
Learn the right posture to maintain balance
Wear a life jacket
DON'Ts:
Forget to maintain a safe distance
Be intoxicated while flyboarding
Avoid areas known for wildlife danger
Where can I go flyboarding in Malaysia?
4. SkyDiving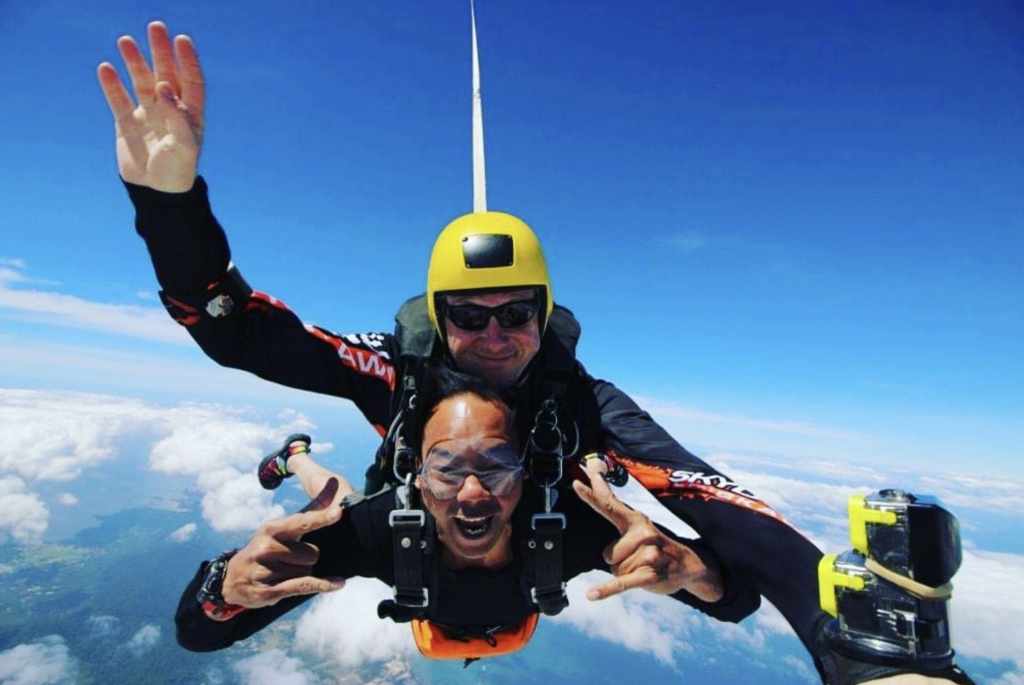 Skydiving in Malaysia is not for the faint of heart.
Although there are several different types of skydiving options; freefall and indoor skydiving are the two most popular types to explore in Malaysia.
DOs:
Listen to your instructor
Ensure you are properly buckled
Wear light and fitting clothes
DON'Ts:
Push someone who is not ready to freefall
Wear breezy clothing like skirts and dresses
Eat a couple of hours before
Where can I go skydiving in Malaysia?
5. Caving
If you've never tried caving before, Malaysia is a beautiful place to do it as it is blessed with many natural caves. Caving is also best for those who are not afraid to get a little muddy and crawl through narrow passages.
Exploring caves is an extreme sport that is time-consuming. It is easy to lose track of time, especially in the absence of daylight which can be dangerous. Here are some dos & don'ts to ensure your safety.
DOs:
Wear a helmet with headlamp
Wear boots and gloves
Engage with a guide for a safe experience
DON'Ts:
Over exert yourself physically
Go alone
Forget water and snacks
Where can I go caving in Malaysia?
6. Snorkelling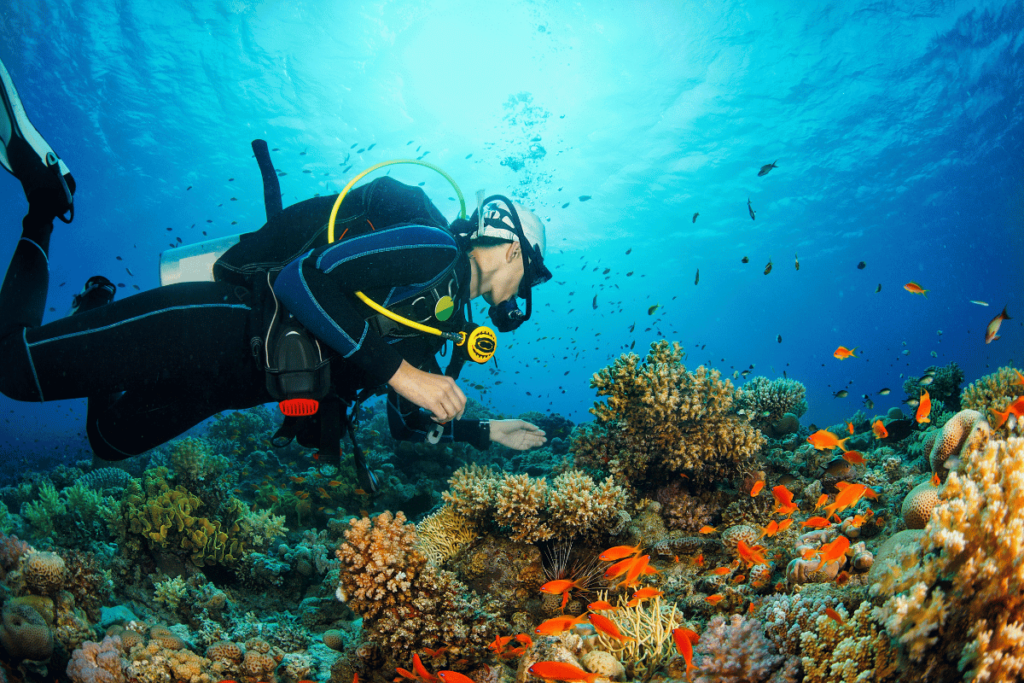 is a popular extreme water sport in Malaysia because of all the beautiful islands and marine life that border the peninsular. It is also a great way to explore the magnificent blue ocean and meet its colourful sea creatures.
This is one of the least expensive extreme sports because it's gears are relatively cheap and you do not need special training or certifications other than knowing how to swim.
DOs:
Practice with shallow water or swimming pools
Wear a mask and fins that fit well to aid you in swimming
Snorkel with a buddy to avoid risk
DON'Ts:
Snorkel in the late evening as it's dark and dangerous
Forget to apply SPF all over your body
Touch corals or catch fishes with your hands
Where can I go Snorkelling in Malaysia?
7. Rock Climbing
If you're looking for an extreme sport to do in Malaysia that'll test your physical strength, Rock climbing is your best choice.
With beautiful rocks and caves in Malaysia, you'll be spoiled for choices when picking your next rock-climbing adventure!
This is a sport that requires massive endurance; not only will you be engaging your arm muscles, but you would need to use your core and legs to lift you up. Basically, it's a full-body workout!
DOs:
Train before your climb (practice with wall-climbing indoor activities)
Wear something comfortable and stretchable
Be friendly towards other climbers
DON'Ts:
Unnecessarily yell or distract other climbers
Keep looking down to see how far you've climbed
Engage in reckless behaviour
Where can I go rock climbing in Malaysia?
Bukit Keteri, Perlis
Batu Caves, Selangor
Bukit Takun, Selangor
Do You Need High-Risk Sports Insurance?
If you're someone who wants to take part in an extreme sport or already make it a part of your lifestyle, this insurance plan is designed for you.
It will ease your mind from worries, allow you to explore a variety of sports and most importantly, ensure you're able to afford the care you may need in the event of an unfortunate event.
What Is The Recommended Sports Insurance Plan?
The Weekend Warrior by Etiqa is designed to support your adventurous dreams – may it be conquering mountains, exploring the rich ocean, or taking part in indoor sports.
This plan protects your finances in case of permanent disability, accidental injuries, death and more.
Weekend Warrior not only covers extreme activities. This plan offers coverage for daily hobbies and sports such as cycling, swimming, soccer, archery and even sepak takraw!
Check out the full list of activities below!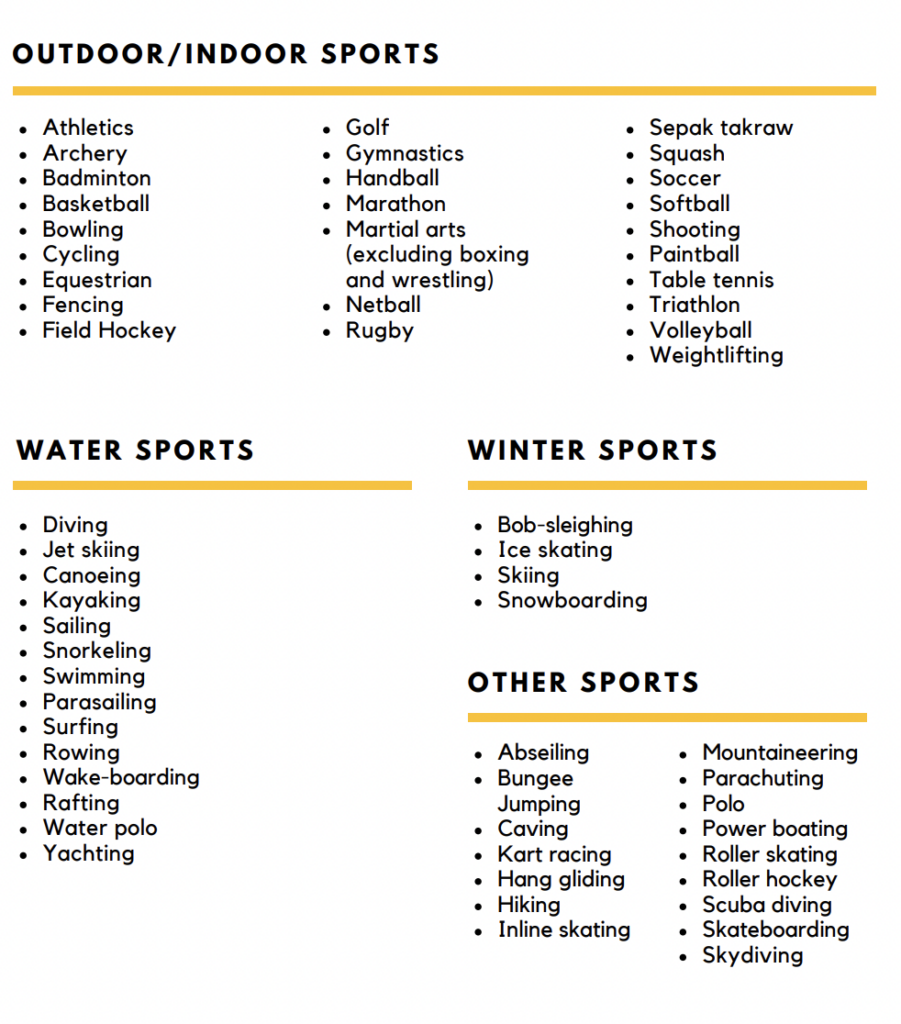 Wrap Up: Best Extreme Sports in Malaysia
Which of these extreme sport are you looking forward to try?
---
The information contained in this blog is provided for informational purposes only. It should not be construed as advice on any matter. Etiqa accepts no responsibility for loss which may arise from reliance on information contained in the article. This information is correct as of 9th January 2023.
Source: