5 Must-Have Travel Essentials
After almost 2 years in a global lockdown, there's a giant travel bug going around. If you're fortunate enough to have travel plans locked in, here is a list of 5 holiday essentials to look into before zipping up your luggage.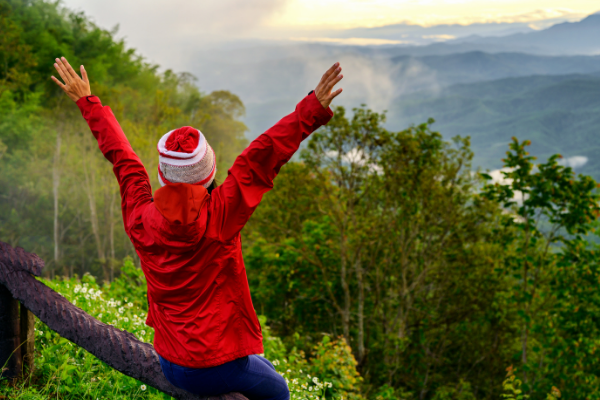 1. Wallets and e-wallets
As global economies have adopted the use of cashless payments such as e-Wallets and travel credit cards, it would be wise to split up your money between a cash and a cashless option. The latter is safe, convenient and reduces loss from theft. If you're travelling overseas, look into cards like BigPay or MAE and do your research and find out which e-wallets are widely accepted at your destination.
However, it's always important to have cash on you for small vendors, local mom-and-pop shops, and more. A personal travel hack; always split up your cash into small portions and tuck them in various spots in your belongings. Not only does this keep your cash safe, it helps you stick to a budget as well.
Fun fact: Did you know if you lose your cash in the event of theft or a break-in, a travel insurance plan will reimburse your loss? 
2. All things anti-bacterial & sanitising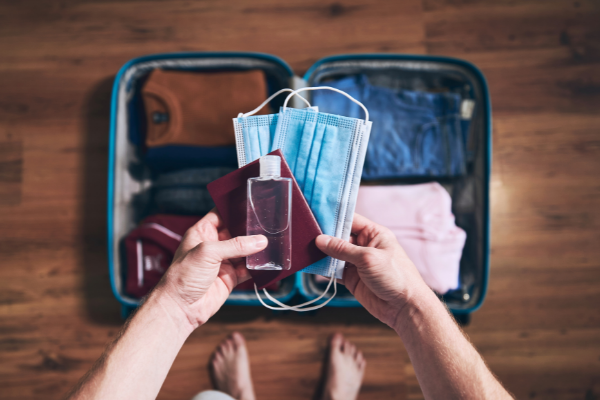 The truth is, the pandemic is nowhere close to being over and Covid-19 is still raging across the world. The difference is that we've learnt to be cautious which means your travels should be within the SOPs. It's important to set your own standards of sanitization as well; after all, there's no loss in a clean environment. Pack your bags with:
Hand sanitizer
Travel size disinfectant spray
Disinfectant wipes
Extra face masks
Don't forget to wipe down airplane seats and give your accommodation a quick spray to keep everything fresh and clean.
3. Electronics and their accessories
Phone, laptop, camera and the bundle of chargers. Check.
A common accessory many travellers tend to forget when travelling overseas is an international adaptor! Don't let your gadgets run out of battery, pack an adapter specifically suited for your destination or use a multi-port universal plug. It's best not to rely on your hotel to provide this for you as it's often limited; especially during peak travel season.
If you're unsure about the type of plug you will need, a quick search online will offer a visual or get in touch with your hotel or host for some guidance. From our personal travel experience, there's just never enough power sockets so pick something with multiple outlets or an extension.
4. Travel insurance or takaful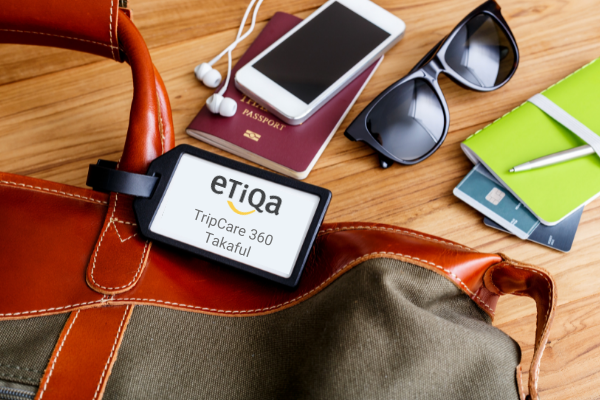 In reminiscing about your travel adventures, it's easy to forget the hassle of it. Delayed flights, lost luggage, misplaced documents, theft or unfortunate medical emergencies. Anything is possible and you know what any seasoned traveller (or a lovely mother) would say: it's better to be safe than sorry!
To avoid the stress of an unplanned financial disruption while on holiday, get a travel insurance or takaful plan.
TripCare 360 insurance or takaful is a plan by Etiqa that offers protection against all travel hassles. It offers everything you will need from cashless hospital admissions to reimbursements for loss, damage, and delay. Our favorite benefits are the cash reimbursement of RM100 for 2-hour flight delays and up to RM5,000 for any loss or damage. This includes damaged luggage bags from poor handling on flight, stolen cash or travel documents, and other similar events.*
5. Reusable water bottle
This seems like an obvious one. However, it's pretty common to see it on everyone's packing list but not in their bags. As we grow to become more eco-friendly and conscious of the impact of plastic to our environment, it's necessary to take these mindful steps. Not only will you be reducing the use of plastic bottles and saving money, you will also avoid using shared water fountains. This is especially crucial while we remain cautious of the ongoing pandemic.
Regardless of your destination, these 5 items will be sufficiently beneficial to your travels so don't forget to pack them. If you're ready to bid adieu, we hope you enjoy your travels and have a lovely time!
---
*T&C apply. The information contained in this blog is provided for informational purposes only. It should not be construed as advice on any matter. Etiqa accepts no responsibility for loss which may arise from reliance on information contained in this article.