A Tree Fell On My Car: Can I Make An Insurance or Takaful Claim?
Have you noticed the erratic weather lately? For some, stormy nights are opportunities to cozy up with a hot cuppa and for others, it means shuddering under the covers. Between the ups and downs of the recent storms we've come to notice a handful of trees uprooting and falling across roads and in some cases, over cars!
So the question here is, if a tree falls on your car, can you make an insurance or takaful claim?
The short answer is: yes.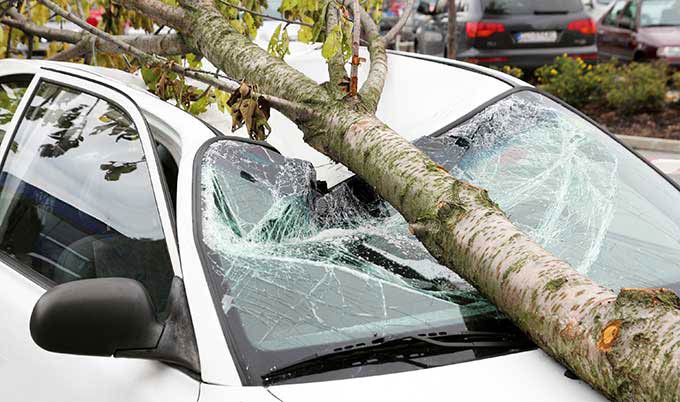 However, there are several things to consider depending on your insurance provider or takaful operator and your selected plan. What it comes down to are two main things:
1. What caused the tree to fall on your car?
Was the fallen tree caused by road works, landscape maintenance and other similar events? If so, damage to your car can be claimed from the relevant party responsible for the accident.
However, if the fallen tree was caused by natural events such as a storm or landslide, then you're able to approach your car protection company. The company will then verify the incident with a weather report and proceed to process your claims based on the existing plan you have in place for your vehicle.
ProTip: To ensure an efficient claim process, be sure to make a police report with details of the damage and contact your insurance provider or takaful operator as soon as possible. Delays may affect your claim process.
2. Does your car insurance or takaful plan include special perils coverage?
The mandatory protection plan that is required by all drivers is basic and does not include special perils. It's an optional add-on that you can opt to include into your plan and extends to include a variety of natural disasters including floods, landslides, earthquakes and more.
With Etiqa, you're able to add-on the Basic Flood Coverage or Extended Flood Coverage plan to ensure protection against natural disasters. This would include a range of events including damage caused by a fallen tree.
To better understand what the plan offers, we've put together a quick summary below:
| | | |
| --- | --- | --- |
| | Basic Flood Coverage | Extended Flood Coverage |
| Cause of damage | Floods and storms | Floods, storms, landslides, hurricanes, tornadoes, volcanic eruptions and other natural disasters |
| Premium or Contribution | 0.25% of the total sum insured/covered | 0.5% of the total sum insured/covered |
How much does it cost and how much can I claim in the event of an accident?
The add-on coverage is a percentage value of your total sum insured.
To give you an example:
Ms Maria owns a Myvi.
She insures her car according to an Agreed Value of RM40,000. 
Her annual premium is RM800.
She adds the Extended Flood Coverage.
This costs 0.5% of the total sum insured.
0.5% x RM40,000 = RM200.
Her total yearly cost of insurance is RM800 + RM200 = RM1,000.
Sometime in the year, Ms. Maria has the unfortunate experience of her Myvi being crushed by an uprooted tree during a heavy thunderstorm. Since she had the added coverage in place, she's able to make a claim.
Assuming her car is noted as a 'total loss', Ms. Maria will be given the Agreed Value of RM40,000 for her Myvi. 
Was the additional RM200 premium worth it? You know it!
Sign up for that extra coverage on your next renewal date and get the financial protection you need. Nature is erratic, protection doesn't have to be.
---
The information contained in this blog is provided for informational purposes only and should not be construed as advice on any matter. Etiqa accepts no responsibility for loss which may arise from reliance on information contained in the article. This information is correct as of 27th May 2021.